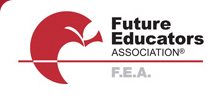 Mission
The mission of FEA is to foster the recruitment and development of prospective educators worldwide through the dissemination of innovative programming and relevant research.
Vision
By elevating the image of teaching, FEA will attract dynamic and diverse students who will become tomorrow's great educators.
Tagline
FEA—A classroom is waiting . . .
25th Annual Future Educators Association® National Conference
April 11-13, 2014 • Minneapolis, Minnesota
Stay tuned for more information on the 25th annual FEA National Conference, taking place on April 11-13, 2014, in Minneapolis, Minnesota.
All FEA members in good standing can participate in this action-packed weekend filled with networking opportunities, competitive events, and leadership development activities for students interested in education-related careers. FEA members will also have the chance to elect FEA's2014–2015 national student officers.